A full-service company specializing exclusively in Intellectual Property Rights.
If you have an idea or an invention and you would like to patent it, please contact us and we will be glad to assist you.
Pat-Net Pro Ltd. is a full service firm that specializes exclusively in Intellectual Property Rights. We are based in the dynamic Bnei Brak Business Center, which is in very close proximity to Tel Aviv. PatNetProfessionals come from a wide spectrum of backgrounds in science, engineering, law and business. Pat-NetPro Ltd. is a proud member of the Schneider Group, which includes a number of leading companies in their fields in Israel and around the world, with strong business and financial strength.
We offer professional intellectual property coverage in a wide range of technologies and business sectors, including high-tech, internet, nanotechnology, medical devices, electronics, semiconductors, aerospace, automation, automotive engineering, manufacturing, chemicals, pharmaceuticals, agriculture, computing, consumer goods, retail, food, advertising, and business methods. Our clients have at their disposal our expertise and in-depth technical and commercial experience covering a wide range of sectors.
Our experienced team of 'Pat-Net Professionals' help our clients to protect and enforce all aspects of Intellectual Property in Israel, the USA and throughout the world in the form of patents, trademarks, designs, copyright, licensing, litigation, etc.
We have a professional relationship with IP firms throughout the world to enable you to achieve the maximum protection in every country in which you want IP protection at a reasonable cost.
Our Pat-Net Professionals represent associates and non-Israeli clients at the Israel Patent Office and the United States Patent and Trademark Office.
Our service offerings include:
Consulting in all aspects of IP
Searches including prior art, infringement, freedom to practice etc.
Drafting and Prosecuting Patent and Design Applications
Prosecuting Trademark Applications
Copyright and Performers Rights
Licensing and Technology Transfer Agreements
Contracts
Litigation
Opinions on patentability, infringement, freedom to practise, etc.
Intellectual Property portfolio development and management
We offer high quality drafting and prosecution, and independent, comprehensive and objective advice. Our Pat-Net Professionals provide our clients with a depth of experience together with the most modern technical knowledge, giving the best overall package to promote your specific interests.
We are professionals in acquiring, securing and registering IP rights and managing IP portfolios.
We strive to achieve good working relationships with all of our clients. We also realize that our clients have budgetry limitations and take this into consideration.
We offer our services to individuals, entrepreneurs, start-up companies, corporations, patent agents looking for a reliable associate in Israel.
Contact us for the Pat-Net Professional approach to executing your Intellectual Property prosecution and litigation needs, and experience first-hand why Pat-Net Pro is where our clients send their friends.
Daniella Zaborowsky, Adv.
Paralegal
Shiri Shain, Adv.
Chief Paralegal
Mr. Shahar Ohana
Marketing Manager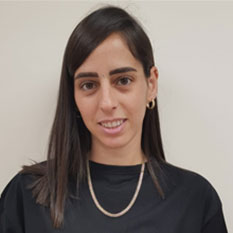 Mrs. Nofar Portal
Company Secretary
Got an idea? We would be happy to help you!
16 Bar Kochva St. "Beit Noa"(1st Floor) Bnei Brak 5126107
Tel: +972-3-9777191 Fax: +972-3-9777192
E-mail: [email protected]